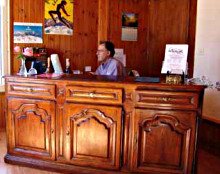 We offer flexible arrangements with :
30 beds in 12 rooms
of 2 to 3 beds
connecting rooms for families (4 - 6 beds)
Reception with bar-chimney
Cosy dining room for 30 persons
Terrace with seating for 70 overlooking the Alps
ski and bike room
Private parking for cars and buses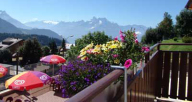 Close together as they are, our hotel reception, bar-chimney make for a much appreciated and lively meeting place for our guests..
Our dining room can seat 30 for the breakfast buffet.
From our terrace with its 70 seats, guests can let their eyes roam over a wonderful view of the mountains and glaciers, whilst sipping a selection of tasty wines from the manager's own vineyard.
All bedrooms are equipped with shower facilities, toilet, telephone and television. All rooms are south facing
Furthermore : There is parking for 150 vehicles including buses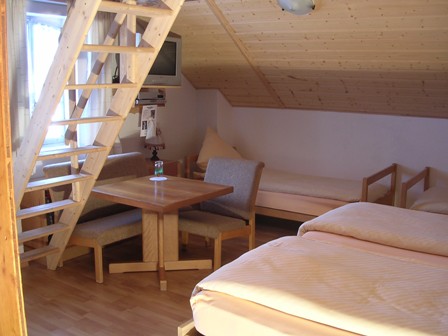 Forfait famille /Package Family/ Pauschal Familie
<!— Please call pinit.js only once per page —>
Forfait "Famille" : 7 nuits pour 2 adultes à sFr 999.- Package "Family" : 7 nights for 2 adultes for sFr 999.- Pauschal "Familie" : 7 Nächte für 2 Erwachsene zu sFr 999.-
Logement des enfants jusqu'à 12 ans gratuits en chambre des parents. Lodging free for kids untill 12 years old in parents'room. Uebernachtung kostenlos für Kinder bis 12 Jahre alt im Elternzimmer.
Pt-déjeuner et taxe de séjour par enfant : sFr 8.80 par jour Breakfast and stay taxe or children : sFr 8.80 per day. Frühstück und Kurtaxe für Kinder : sFr 8.80 par jour.