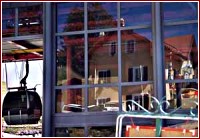 Purpose-built to accommodate sports groups, our hotel is situated directdly by the skiing downhills, nearby the cablecar departure and 100 yards from the Sports Centre with fitness run in the nearby wood.
There are also numerous trails and paths ideal for jogging.
Our rooms are available to teachers and students from the primary level interested in discovering the wonders of nature to university undergraduates
Leysin's altitude (4500ft) with its healthy, sunny climate makes it ideal for a longer stay so as to enjoy some of the many excursions and trips that are available :
A guided tour of the Lake Geneva region : which can take in visits to Château de Chillon (immortalized by Lord Byron), the International Olympic Museum, the medieval town of Yvoire, the model steam railway park and two amusement parks-Aquaparc and Fun Planet.
Mont Blanc and the Gt Saint Bernard Pass : Chamonix and its "sea of ice," the museum and famous dog kennels of the 1000yr old monastery at the summit of the Gt Saint Bernard Pass.
Gruyères : Cheese, chocolate and three mountain passes !
Les Diablerets Glacier (9000ft), Gstaad and Château d'Oex.
Ballenberg, the Swiss national outdoor rural museum and the Bernese Oberland.
Martigny with its museums, castles and Gianadda Art Museum.
Wine-tasting in your hotel manager's own vineyard.
A choice of romantic train rides in our region such as the Mont Blanc Express and the Panoramic Express from Montreux.
Forfait famille /Package Family/ Pauschal Familie
<!— Please call pinit.js only once per page —>
Forfait "Famille" : 7 nuits pour 2 adultes à sFr 999.- Package "Family" : 7 nights for 2 adultes for sFr 999.- Pauschal "Familie" : 7 Nächte für 2 Erwachsene zu sFr 999.-
Logement des enfants jusqu'à 12 ans gratuits en chambre des parents. Lodging free for kids untill 12 years old in parents'room. Uebernachtung kostenlos für Kinder bis 12 Jahre alt im Elternzimmer.
Pt-déjeuner et taxe de séjour par enfant : sFr 8.80 par jour Breakfast and stay taxe or children : sFr 8.80 per day. Frühstück und Kurtaxe für Kinder : sFr 8.80 par jour.